Joti Sharad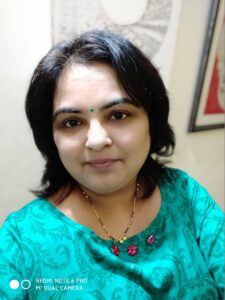 Joti Sharad is an   Artist, Fashion designer, entrepreneur From Belgaum Who after her education in the field of fashion and textiles moved to Bangalore to perceive higher study and career.
She worked with corporates 7 years, in apparel merchandising and sourcing, for US based clients as WALMART, GAP, NIKE, HUDSONBAY, and LEVIS etc., Presently she is a founder and executing partner in TERA APPARELS.
As a part of her entrepreneurial activity she has trained the close to 100 rural women s for the industrial machine operating as per the industrial standard's and has employed around 35 to 50 women's
Since child wood her hobby remained painting, abstract and meditative art holds her interest. This led her to Karnataka Chitra Kala Parishat to perceive more in fine arts. She started exhibiting her collection of art works during chitra santé since 2007 to 2016
She is part of artist group "GULMOHAR BAG" which they conducted 2+6 Shows towards group activity and for flood relief charity show.in 2019
1: Gulmohar bag fund raising show for flood victims@ 7 locations.
2: Gulmohar bag artist group show @ Mahaveer Bhavan.2018
3: Gulmohar bag artist group show @ Royal Enfield Showroom   2018,   Belgaum.
4: Black & White group show @ Venkatappa Art Gallery Bangalore in 2017.
5: Akanksha Women Artist group show in 2016 @ CKP Bangalore.
6: Akanksha Women Artist group show in 2015 @ CKP Bangalore.
7: Art show made in Belgaum and Chitra jatre.
8: Chitra Sante for consecutive years at Bangalore from 2008 to 2014.
Social Media & Contact:
FACEBOOK: www.facebook.com/jotisharad
INSTAGRAM: www.instagram.com/jotisharad
Gmail Id: jotisharad@gmail.com
MOB:9243454990
Showing all 5 results