Priya Ramanathan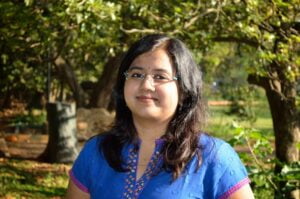 My tryst with art began when I was a child; there were days in my childhood when I scribbled on the walls of my home, spilled the beautiful colors of the nail paint bottles on the floor and tried to make an art out of it, sketched and painted on pots, dolls, books and everything I could lay my hands on. The fascination, passion and love for art still remain undiminished.
I'm Priya Ram, an engineer by education, residing in Bengaluru. I enjoy sketching and painting using many mediums - Acrylic, Charcoal, Watercolors, Graphite, etc. I have a keen interest in Indian Folk/Traditional art such Madhubani, Gond, Kerala Mural, Ganjifa, Warli, etc. I also find fluid art (using resin, alcohol inks & acrylic) very satisfying, as the colors move around on the canvas forming beautiful patterns. Nature has always inspired me and I often try to depict it through my artwork – be it the blues of the ocean, the greens of the vast fields or the beautiful hues of the sky.
I believe that Art is therapeutic and a fun way to relieve stress in our fast-paced lives. Art has the capability to provide happiness, fuel imagination & creativity and is great way to express oneself.
I conduct workshops and art classes on different types of art & craft for adults and kids in my art space "Hues & Tones Art Studio", in New Thippasandra, Bangalore. The studio was inaugurated in July 2018 and about 250 workshops have been conducted so far. I undertake wall painting projects and orders for customized art works.
Art shows participated: Akanksha Art Show 2018 & 2019 (CKP), Vasantha Arts Exhibition of Painting 2018 & 2019 (Venkatappa Art Gallery and Art Houz respectively), Art O Medley Show, 2018 (CKP), 3rd 'Tune of Art' Exhibition, Bangladesh, 2018.
Email: art.priyaram@gmail.com
Mobile: +91-8105274037
Instagram - www.instagram.com/priyaram.art
Facebook - www.facebook.com/priyaram.art
Art Blog - www.priyaram.com
Showing all 5 results