Sana Ashraf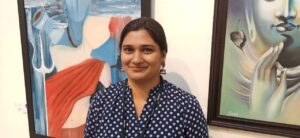 Sana Ashraf  has a MBA [ Marketing Management] and has also done B.Sc. Costume Designing and Fashion and is presently working as Adjunct Faculty at Ramaiah University of Applied Science, Bangalore.
She has 10 years of experience in teaching and Industry of fashion and Apparel .  As her core subject was Fashion Art and Illustration, sheer passion towards painting started once she started her teaching job in Art and Illustration. This also geared her to learn more about different types of arts and techniques and then to  further hone her skills, she took a short term training in Oil painting  from Fine Arts Institute at Kerala. Since  2014 onwards she has been actively working on her  art works.
Art Interests  are :  Modernism, contemporary, portraits, landscapes, fluid art, polak art, naturalism and  romanticism. She also loves concept based art representations.
WORKSHOPS AND PROGRAMS PARTICIPATED
Presented paintings for womens art exhibition ''Snehavarnangal''at Lalith kala Gallery, Calicut, 2020
Art exhibtion participation at Chithrakal parishath, Bangalore 2019 [ Color and Space]
   ACHIEVEMENTS
Featured article about art works in 'Priyanka' womans magazine, Bangalore edition, February 2020
Artist article about oil painting work 'VIYOG of Shiva and Sati' Reported by Samyuktha Karnataka edition.
Featured article presentation about color and space art exhibition at ''your story.com''blog by Madanmohan Rao.
Certificate of Appreciation for contributing design collection Bangalore Fashion Week 11th edition winter collection 2014.
Certificate of Appreciation for designer collection Synergy Fashion Estheticaa season 2 Bangalore [2014]
HAUTE COUTURE  collections reported by  "Coimbatore Times media''[2011]
DESIGNER AWARD won at NEHRU group of institutions, Coimbatore[ 2011]
E-Mail: [email protected] ,[email protected]
Contact: +91-9513364034 , 8618962629
Showing all 4 results