Sangeeta Agarwal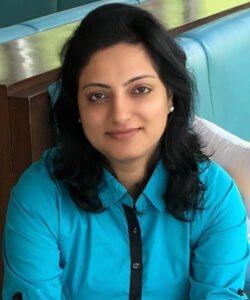 Sangeeta Agarwal is an upcoming  Indian watercolor artist.  She has graduated in Psychology and done certification in teaching and worked as a teacher. She has had a passion for art since her childhood and it fascinated her to experiment myriad mediums and techniques, taking training under professional artists and doing her diploma in The Fine Arts. She then turned into a full-time mother and painted from home. She enjoyed doing charcoal and graphite initially and mastered graphite realism. Her acrylic paintings showed vivid experiments where she especially enjoyed abstract style more. She exhibited these mediums in local and online art galleries. She has been conducting art classes over decades, summer camps for children and women at home and workshops specially to motivate all of them to try their skills with colors. Later, in 2019, she was curious to experiment the professional and realistic style of watercolor.
She had come across watercolor in her school days as an art medium of her interest.
Investing time experimenting and learning realistic watercolors from internationally renowned watercolorists, she is becoming more proficient and is love being a watercolorist now. Sangeeta generally paints portraits, still-life paintings and nature paintings. Indian culture, vivid colors and light are integral parts of her paintings. She is also an art teacher and an instructor for kids and adults. Her interest lies in giving knowledge in both realistic and contemporary styles in acrylic, graphite & charcoal and watercolor paintings and taking orders of commissioned art too.
Sangeeta is a freelance artist and founder of Krishansh which started with a purpose. After losing her Mother to Cancer, she decided to help cancer patients and do something in memory of her Mother through her passion. By selling paintings, the profit which comes through her art partly goes to the Cancer trust for the patients who are in a rehabilitation stage with ongoing treatments. Like this, she supports many social causes for society welfare through the finesse of her art alone. She has participated in various prestigious events and exhibitions, some of the notable ones being;Art  Can care Charity exhibtion in 2018   IWS India, IWS Indonesia, Fabriano-Italy, Akanksha Women's Group of Shows (twice).
Mobile/WatsApp: 9986045051
Email: [email protected]
Facebook Website: https://www.facebook.com/sangyagarwal
Facebook Page: https://www.facebook.com/krishansh.sangeeta
Instagram Page: https://www.instagram.com/sangeetaagarwal.art
Showing all 7 results